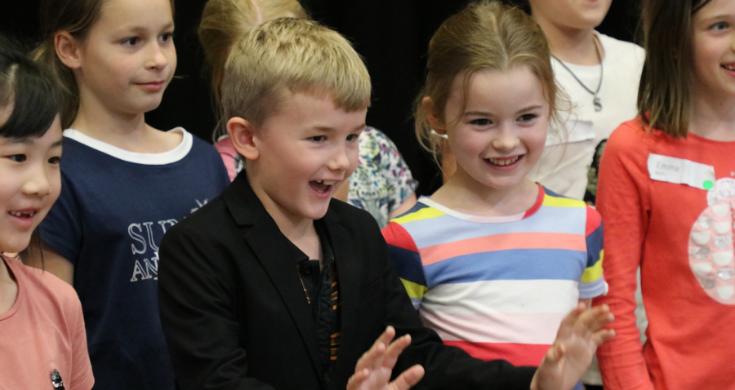 Five reasons to jump back into the performing arts this school holidays
The benefits of a performing arts education go far beyond the stage. Attending our holiday program is a great way to experience a range of performing arts activities in a bite-sized, immersive two days. Designed by our team of experienced performing arts educators, our holiday program curriculum caters to first time participants through to experienced young performers in a fun, safe and inclusive environment.
Here are five reasons to have your child jump back into the performing arts this school holidays.
1. Blossom Creatively
By immersing themselves in the performing arts for two full days, we find young people blossom creatively and socially while developing life-skills and building genuine friendships with other creative children. This is because encouraging children to try new things and share their ideas using their bodies, their voice, and their imagination develops resilience and confidence in a non-competitive environment.
2. Greater confidence
Parents are always delighted by the 'hidden curriculum' – greater confidence, self-esteem, public speaking skills, presentation and team work. The combination of performing arts activities gives young people the opportunity to build their presentation skills, experience performing for one another and take pride in creating something as a group.
3. Get active
Movement and dance activities are a wonderful way to help children develop their coordination, body awareness and physical self-confidence in a non-competitive environment. Through the process of learning movement, children become more aware of their bodies and what they are capable of, building up the courage to experiment and push themselves to see what they can achieve with their own body.
4. Experience the wellbeing benefits of singing
Singing in a group immerses young minds in a pleasurable, social activity. Singing has well-known wellbeing benefits, as it decreases stress, releases endorphins and boosts positive emotions. Singing has also been shown to develop children's ability to regulate emotion, through self-expression and connecting with song lyrics.
5. Develop important skills that are disappearing from regular schooling
With the creative arts shrinking in mainstream schools, more and more parents are looking for quality creative outlets for their children. Young people are spending less time creating imaginary games, playing physically and experiencing the performing arts at school. Many are also becoming socially isolated as leisure time is more commonly spent in front of screens. Whether your child is brand new to performing, has done some singing but never tried a dance class, or is an experienced performer, seek out ways for your child to develop their creativity in group environments.
Join the fun this school holidays!