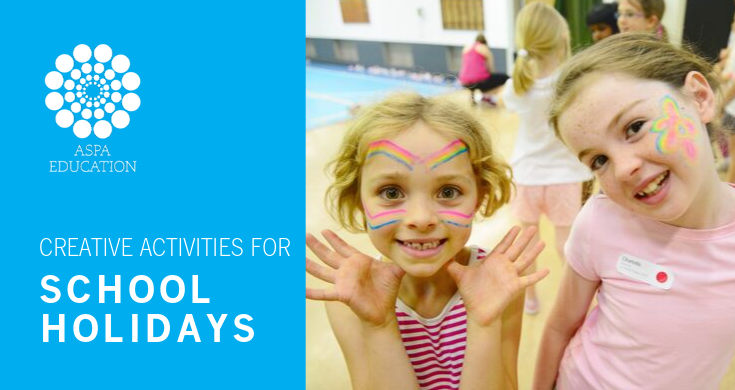 Creative School Holiday Activities to do with your Kids
Whether your kids are creative, outdoorsy, adventurous or theatrical, there are plenty of activities to distract them from their devices this school holidays.
With the school holidays just around the corner, we've put together some of our Australian School of Performing Art's staff members' favourite activities to do with their own kids during the school holidays!
Put on a puppet show
Puppets can be existing toys, socks, or any object around the house you want to 'bring to life'. The same goes with the stage. Think outside the box and pick any location around the house to set the scene. Create a story about the kitchen utensils that get lost in the bathroom. Or the Lego toys that get trapped in the dishwasher. Alternatively, keep it super simple by having your kids use toys to 'act out' the story of their favourite picture book or nursery rhyme. Or have the puppets perform a concert of your child's favourite music album.
Take the Stage at our performing arts holiday program
There are many performing arts holiday programs that have kids up on their feet, trying something new and building creative presentation skills that will serve them beyond the classroom. At the Australian School of Performing Arts, our holiday programs have participants sing, dance and act over two jam-packed days in a fun and creative learning environment. Participants are mentored by our experienced performing arts specialists while working together to develop a showcase concert for friends and family to enjoy. The October Holiday Program runs in Adelaide, Brisbane, Canberra, Melbourne, Perth and Sydney and caters for first-time performers through to experienced young artists.
Enrolments are now open! More details here: www.aspagroup.com.au/what-happens-at-our-take-the-stage-school-holiday-program/
Visit a cultural institution
Many cultural institutions around the country are committed to providing creative experiences for young people and their families. This includes galleries, libraries, science museums and sculpture gardens in your city. Many of the state and national organisations have free entry and include kid-friendly exhibits that line up with school holidays. If you're kids are a little older, you might like to take them to a live performance for the first time. We're sure you can recall your first ever experience seeing a live performance. It's a wonderful way to make lasting memories.
DIY science experiments
There are loads of imaginative, kid-friendly science experiments on YouTube, which are simple to recreate at home with a few household ingredients. You can make slime, write secret notes in invisible ink, or turn eggs into bouncy-balls using vinegar. The sciences are inherently creative, and teach young people about imagination, experimentation and failure as part of the creative process.
We hope this gives you some ideas for creative and kid-friendly activities this school holidays.
Enrolments for our School Holiday Program are now open! Find out all the details on our Holiday Programs Page.
If you want to read more about what happens in our Holiday Programs, be sure to read What happens in our ' Take the Stage' School Holiday Programs. And if you're not already, Follow us on Facebook to keep up to date on other workshops and events throughout the year.