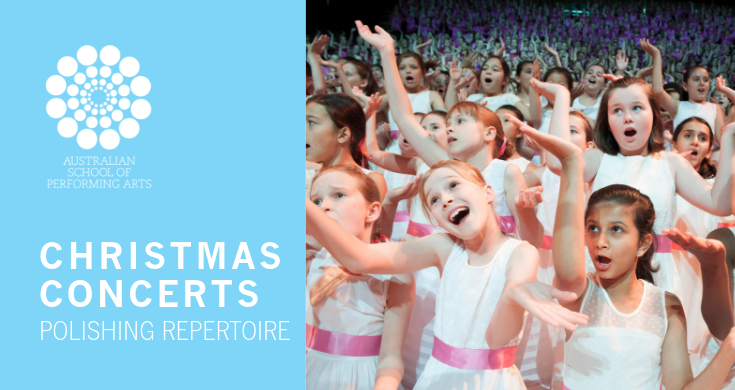 Term 3 means you're probably starting to think about putting together your end of year concert! And we're here to help you.
First up, if you missed the previous posts in the series, be sure to also read:
Christmas Concerts – How to get started!
3 Tips for Creating Show Stopping School Concerts
One of our favourite things we do at the Australian School of Performing Arts, is work in schools alongside teaching staff to help put together wonderful end of year performances and Christmas Concerts.
Polishing your repertoire is an important part of the rehearsal process. It's where you get to fine tune all of the elements and really bring your concert to life.
Based on years of experience creating concerts for all types of audiences, there are a number of techniques we return to again and again to help school groups polish their repertoire.
Today Sally Gawley, one of our specialist educators at the Australian School of Performing Arts, shares three of the tools she uses with teachers when working with their students to create wonderful school concerts.
1. Select songs appropriate for your audience.
Before selecting your Christmas concert repertoire, consider who the audiences will be. Grandparents are going to be entertained by different music to if the kids are performing for students in their own school. If it's an older, traditional crowd select songs like Silent Night. If it's a younger audience you might prefer to include songs like Rudolf the Red Nose Reindeer.
Similarly, consider whether you are from a secular school or a faith-based school. If your school is part of the Christian or Catholic tradition, select music that will reflect this and speak with their connection to Christmas. If your school is a public or secular school, choose songs that will connect with their experiences of the holidays. Reverse engineering your material in this way will ensure your audience feel entertained and included in the celebration.
2. Tell the story of the song.
Christmas songs usually tell a story. For this reason, the words play a very important role. When polishing Christmas repertoire, it's important to focus on diction and clarity so that the audience can hear each word. Asking students to focus on singing each word clearly will also help them connect to the story.
Another aspect of telling the story of a song is to consider the tone of the story. Is it a sad story? A hopeful story? A comedic story? This should inform the way your students perform the song. O Holy Night will have a very different tone to Jingle Bells.
3. Rehearse the humour.
If you're using comedic songs it's important to spend time with your students exploring the humour in each piece. Many teachers forget to set aside enough time in rehearsals to focus on the comedy, which is key for bringing light and shade into the concert overall. Explain to your students why the song is funny, and chat through how the writer has used humour to make their audience laugh. If your students don't understand the jokes, then it will be much harder for them to bring the song to life. If you get them to practice making each other laugh using the song, then they'll more naturally embody the comedy when performing.
We hope this gives you some ideas for your next rehearsal!
No matter where you're at in the concert process we're here to support you.
If you'd like some support going from page to stage, ASPA Education specialises in preparing schools for major events including school concerts, musicals, graduations and eisteddfods. Our experienced instructors can provide choreography, singing, dance, and drama coaching to staff and students, as well as stage management on the night if required. We can also tailor a once-off workshop to get things started or polish concerts at the end of the process.
To find out more about how ASPA Education can work with your school to create a wonderful end of year concert check out the School Programs page.