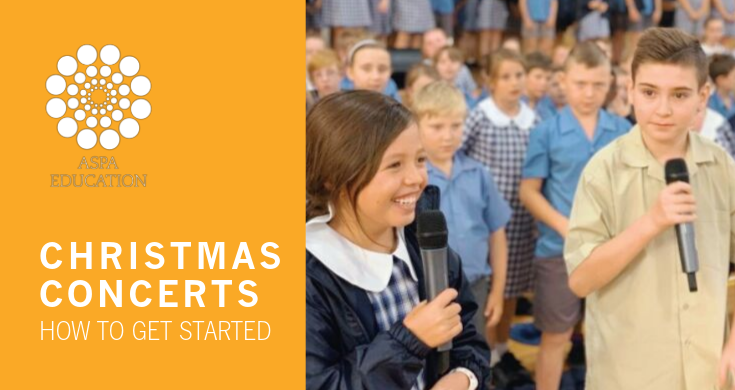 School concerts are a wonderful opportunity for students to perform onstage, build their confidence, and most importantly, have fun collaborating on a creative project together.
One of our favourite things we do at the Australian School of Performing Arts, is work in schools alongside teaching staff to help put together wonderful end of year performances and Christmas Concerts.
There is a delicate balance between creating an enjoyable experience for students and staff, while at the same time putting together entertaining performances for parents. So today we'll be unpacking some of the most important things to consider before you dive into the planning process.
Start with what your students are good at.
Many well-meaning teachers make the mistake of getting so excited about selecting repertoire, before they've asked themselves the question, 'What do my students like doing?' This can lead to trying to fit their kids into a particular 'type' of concert. We suggest you begin working from the prompt of what kind of concert your students would be most successful at.
Are they good at singing? Are they good at dancing? Are they very dramatic? Or perhaps a combination of all three? If they're good at singing does this mean choral pieces or pop songs?
Consider each of these elements (singing, dance and drama) to work out what type of material you'll need to start hunting for. Then you can start the fun work of gathering inspiration and ideas.
Consider what you're good at.
Perhaps your students love drama, but the thought of directing a school play terrifies you. You would feel much more comfortable if it could be straight singing performance, with no movement, no dancing, and no drama. If this is the case, then you'll need to find a happy medium. Perhaps you could select songs from a musical theatre, which have the possibility of some performances within the singing, without the pressure of performing the whole play.
Yes, it's important to consider what your students want to do, but if you as the captain of the ship feel out of your depths directing a play, then you aren't going to enjoy investing all of the precious hours required.
Make a list of everything your students enjoy and everything you enjoy. We like to call this overlap the 'sweet spot'. The majority of the material you select for the concert should fall here.
What resources does your school already have?
What resources does your school already have at its fingertips? Make a list! These are things like a school hall, microphones, a PE teacher who loves choreography, $200 raised from a sausage sizzle, reindeer t-shirts from last year's concert. Don't discount anything at this phase, just write them down. We believe that creativity thrives when you give yourself constraints.
If you start building a school concert from the resources you do have, not only will you save yourself a lot of problem solving down the track, but you'll be able to more accurately envision the final outcome, and then work towards that.
Now take action!
Taking action on each of these three steps will put you exactly where you need to be to get started on your school concert.
If you're still feeling stuck, or are after more specific advice and guidance, then you may like to work with us one on one.
Our Concerts and Productions School Programs are designed to help staff plan, rehearse and present concerts in your school. Our programs are highly customisable and can be delivered as a once-off workshop, a series of workshops, or let us completely take the reins!
You can find all of the details on our School Programs page.