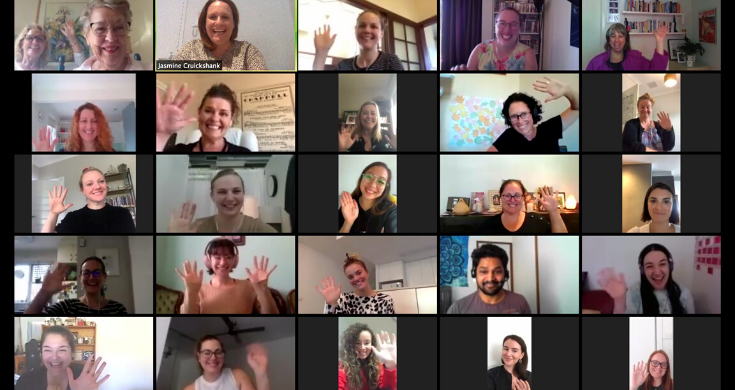 Creative ways ASPA employees are raising money in the workplace
The Girls from Oz annual Giving Circles campaign is g-oz's major fundraising initiative every year. With considerable disruptions caused by COVID-19, ASPA staff were well aware that of the challenge Girls from Oz would have raising money for their travel programs in 2020.
With these difficulties in mind, our ASPA employees didn't want to give up on the communities that g-oz has been working with for over a decade and got creative about the ways they could pull together for their g-oz sisters during this time.
Here are some of the ways our inspiring and determined staff members pulled together to support Girls from Oz's 2020 Giving Circles campaign. We hope they inspire you to get involved however you can during these times.
Get together for a Glam Night
How could you use one of your passions, side projects or skills to teach, share or educate your circle as a way to raise money?
Our wonderful Administration Assistant Stephanie Bosquet donated an evening of her time to run a virtual 'Glam Night' for staff over Zoom. As our official office glam queen, Steph shared her makeup styling tips and tricks for a $10 donation. Steph showed staff how to pull off a 'casual iso' look for workplace Zoom meetings, as well as a 'let's be social again' look for weekend.
With 10 people attending, Steph raised $100 for Girls from Oz and proved that any creative talent can be harnessed towards a good cause.
Host a Trivia Night
Next week the team will be hosting a Zoom trivia night as a way to spend some social time together for a good cause.
If you would like to host your own trivia night without having to do the hard work of putting together the quiz and PowerPoint then you can use ours if you make donation to g-oz! Email us at headoffice@aspagroup.com.au for all of the details.
Coordinate an iso bake sale
Could you offer to bake your favourite recipe for friends in exchange for a donation?
Will ASPA staff let social distancing get in the way of our yearly bake sale? Absolutely not! Our wonderful Venue and Events Coordinator (and gluten free baker extraordinaire), Hannah Peart, asked volunteers to bake an array of favourite items such as easy to freeze soups, jams, chutneys, oils, healthy lunchbox bars and dips, and will send around a staff survey for people to place an order before the official 'pick up day' at the office. Last year our bake sale raised $958 for Girls from Oz, and we're hoping to raise the same amount in 2020.
Monthly Giving
Could you teach your little one about philanthropy by encouraging them to donate $2 of their pocket money each month to another girl in regional and remote Australia?
Monthly donations allow all people with any capacity to give to get involved. Whether it's $2, $5 or perhaps $20 a month, our ASPA employees know that no donation amount is too small because it all adds up over time. Our PR & Marketing Assistant, Georgia Allen, donates $20 a month. "While I was a student, donating $250 in one go felt like an overwhelming amount. By donating $20 every month I am so proud to say I give $240 annually! To see such a huge impact for Indigenous girls is a no-brainer." Georgia Allen.
Get involved
Whether it's through monthly giving, hosting a trivia night of your own, baking a favorite recipe or getting creative and sharing you skills we hope that our ASPA staff team have inspired you to think outside the box during lockdown so that the important work of many charities across Australia is still able to continue. When these individual donations are added together they add up to a collective total and their impact is amplified.
Find out more about g-oz's important work here: https://girlsfromoz.org.au/support/donate/