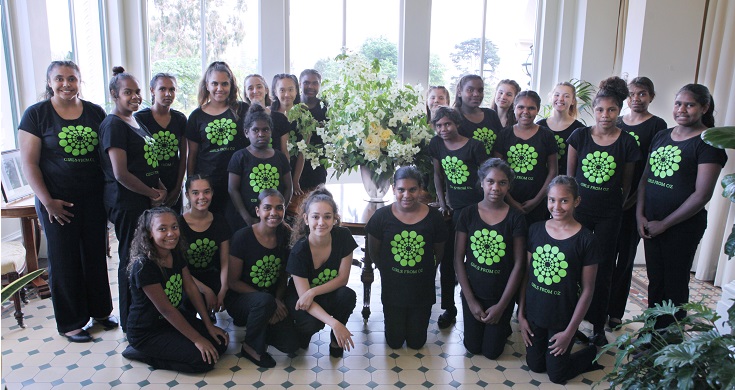 In November this year, twenty-four girls from Carnarvon, Halls Creek and Lockhart River travelled to Melbourne to participate in the Girls from Oz Travel Program.
This week-long program is a highlight and a key component of the ongoing programs that g-oz runs in each of the three locations, and offers the opportunity for the most engaged participants in each program to be selected to travel to a major metropolitan city.
ASPA and the AGC enjoy assisting our charity partner g-oz to facilitate hosting opportunities – Travel Program participants are hosted in pairs with peer-aged members of the AGC. During the program, the participants undertake educational and mentoring activities, explore further study options and career paths and share in cultural exchange.
Each travel program is a fun, exciting, challenging and rewarding experience for all involved, and this year was no exception! The 2018 program saw the girls visit and perform at Parliament House, meet with former Governor-General Quentin Bryce, attend a performance of School of Rock the musical, attend a workshop with Shauntai Batzke (an Aboriginal opera singer), perform on stage in front of a sold-out Arts Centre audience at the AGC Melbourne Annual Concert, and more!
ASPA and the AGC are proud to work alongside our charity partner Girls from Oz to bring the travel program to life. It is a pleasure to see the confidence, self-esteem, teamwork and joy that the participants experienced during their week away. Congratulations to AGC Community Leader choristers in each state for their hard work in raising money for g-oz, and helping to make this important program possible!